How To Schedule SMS
Sending Scheduled SMS on SMS UR WAY platform is easy. Select the calendar date and time when you want the SMS to be sent out and the system handles the rest. Simply follow the steps below: Make sure that you have enough SMS credit in your account. 160 characters constitute 1-page.
Log into your account with your username and password
2. Click on Send SMS Campaign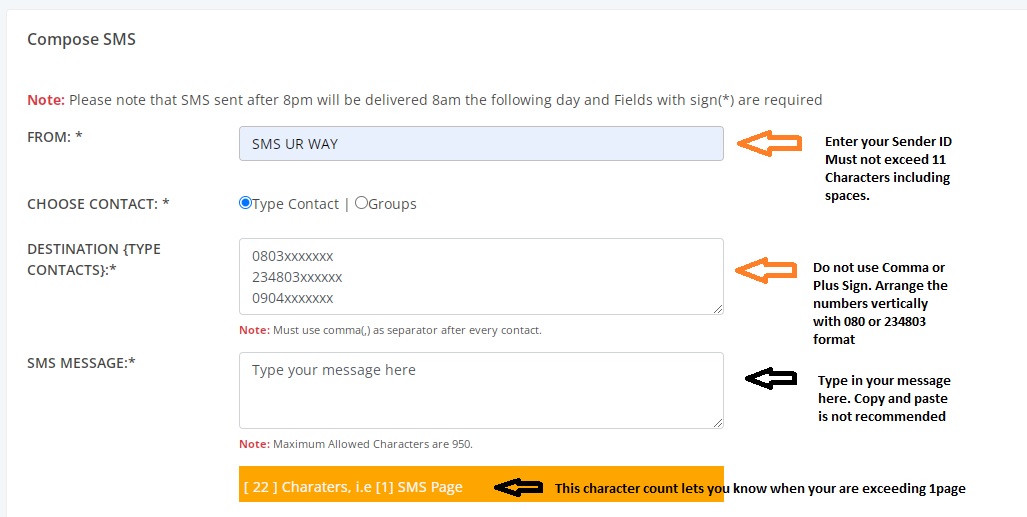 3. Fill in your details as shown in the screenshot above. You can copy your numbers from notepad and paste in the destination field. Make sure that the numbers are pasted vertically without commas or plus sign.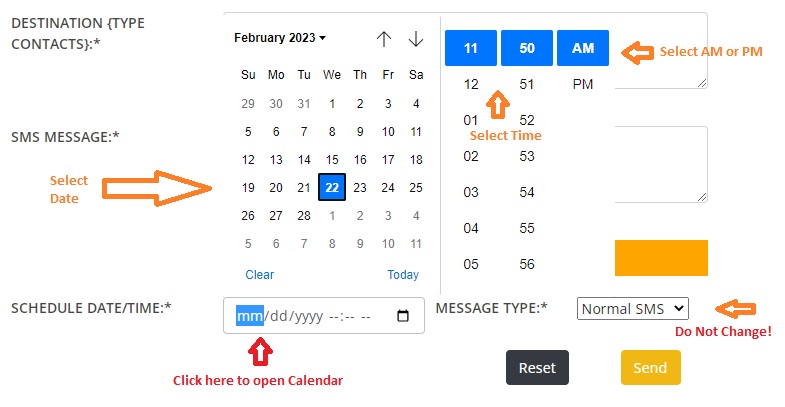 4. Click away from the calendar section
5. Click SEND and wait for 15 minutes before checking your SMS delivery report.
Note: This SMS platform sends SMS using promotional gateway. It does not deliver to DND (Do Not Disturb) subscribed numbers. To send to DND numbers, click here to sign up
Best Practices for SMS Scheduling
To get the most out of your campaign, you want to be aware of the high-quality instances to time table your messages.
As a regular rule of thumb, time table your SMS between 9 AM-6 PM on weekdays. If your target audience skews closer to 9-5 professionals, you ought to agenda texts between 12 PM and two PM when they would probable have stepped away from their desks. If your target audience skews younger, evenings and weekends are on the table, however if 55+ makes up a large phase of your client base, take evenings and weekends off the table.
Always schedule SMS primarily based on the time region of the recipient. No one desires to get a textual content message at 1 AM! For automatic reminders, be certain to time table them 24 to forty eight hours in increase of your customers' appointment. This observe offers the recipient lots of time to cancel or reschedule their appointments. Never ship advertising and marketing textual content messages earlier than 8AM or after 8PM.
Have you signed up already? Sign up at SMS UR Way today!